Kingdom of cambodia
Professor takashi miyata trained specialist of periodontology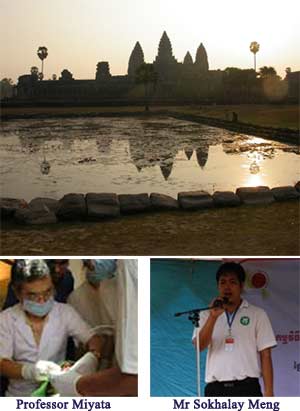 From 2004 to 2006, Professor Miyata stayed long duration in Phnom Penh for support UHSFOS's educational systems. Especially, he trained post graduate couese for periodontology totally 25 dentsits that recognized by Cambodian government diploma.
OISDE also has supported SETRA (SETRA Booklet final01.pdf) since 2009. The purpose of this project to motivate for final dgree students in University Health Sciences actual condition of rural area. Mr Sokhalay Meng, Coordinator of OISDE Cambodia Office.
Mr Sokhalay is a local coordinator as a responsible person of the follow up project in Mondulkiri that had been implementing by JICA grass root partner-ship technical support from 2011 to 2013.
His newest report from Mondulkiri as follow up state. ⇒Feb 2014 Report.pdf
Follow Up Report at Mondulkiri ⇒June 2014 Report.pdf
Supported since 1991
Professor takashi miyata
visited to University Health Scieneces Faculty Odontostomatology(IHSFOS) on 1991.
Over 360 dentists before civil war became…
Only 6 dentists survived after civil war over.
1991, There were only 3 teachers in UHSFOS professor miyata established "Samurai" group joint young students including professor Uy sophorn

From 1991 to present
Educational Support for UHSFOS by Professor MIYATA
2004-2005
JICA GRASS-ROOT technical support project "mobile clinic project for rural area"
2006-2007
Ministry Foreign Affaire NGO partnership project "mobile clinic project for rural area part 2"
2009-2013
JICA GRASS-ROOT technical support partner type "oral health promotion for MONDULKIRI" Report from Mondlkiri
Contact Us:Sok Chea Dental Clinic
#57-59Eo, Jawaharlal Nehru (215) Phsar DepoⅡKhanToul Kork, Phnom Penh